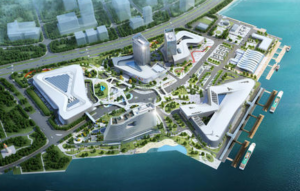 As an unprecedented event in the Chinese football industry, the 4° China World Football Expo 2020 offered more than simple international trades. Now we are ready to start the 2020 Edition in Xiamen from 13th to 15th november.
CWFE shoulders the three-fold social responsibility of serving the industry, promoting the commerce and nurturing the culture under the great topic of football.
It seeks to reach beyond the simple business: from the perspective of football as an industry, a cause, a sport, a culture and a lifestyle, CWFE wants to realize an inclusive, informative and interactive platform open to all equally.
For this reason, CWFE is divided into three sections:
The B2B section of CWFE sets up an highly exclusive arena of football economy where government officials can discuss about integrated industrial solutions, frontier ideas and projects that can match the massive Chinese capital market,.
The B2C section gives a fully display of the current state of the football market, representing a huge gathering of cutting-edge technology, frontier innovations, fully training programs, sophisticated post-match healthcare, and miscellaneous peripheral products. It creates an energetic business pool full of buying opportunities, merchandising ideas, money-saving deals and face-to-face connections.
The C2LIFE section is the humane touch of the whole CWFE design that goes beyond the business goal. The organizers reserved an entire hall to give the opportunity to the football fans to bring their voice, to show their talent, to share opinions. This platform welcomes applications from every individual, organization, and non-profit-institution that want to take part of it. We truly believe that CWFE represents for every football lover the opportunity to build value, sharing experiences, creating closer ties and improving friendships.
CLUBS 
SHOPS 
POPULAR BRANDS   
PRODUCTION TECHNOLOGIES 
EQUIPMENT   
CLOTHING 
FOOD AND SUPPLEMENTS 
MEDICINE   
LICENSING 
EDUCATION    
RESEARCH AND NEW TECHNOLOGIES   
FANS   
ENTERTAINMENT AND PLAYGROUND   
MUSEUM 
DEMOS WITH SHOWS AND CONTESTS   
FOOTBALL CLINICS WITH TOP CLASS FORMER FOOTBALLERS
BANKING AND INSURANCE